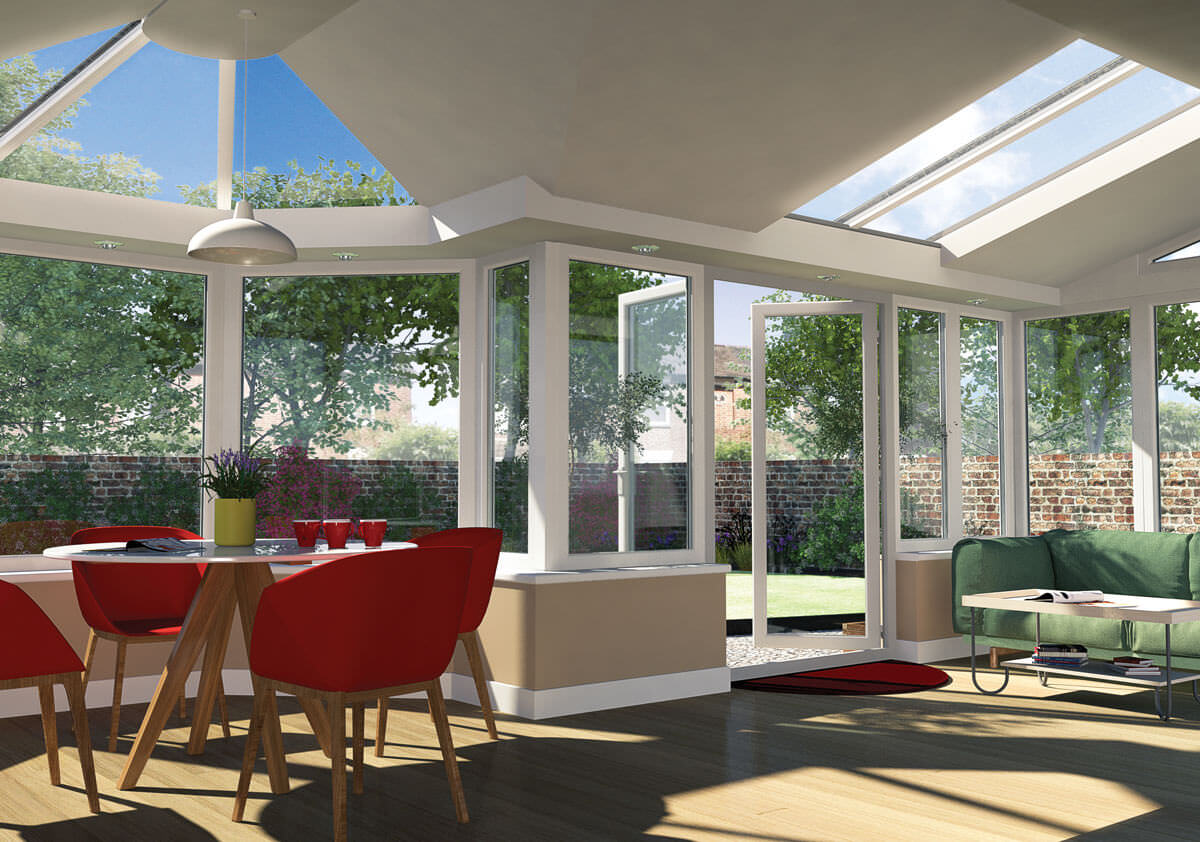 If you're thinking of investing in a conservatory, then you're making an excellent choice! They are one of the most versatile additions to any home. With so many styles to choose from, there's the ideal design for any property, no matter its aesthetics or when it was built. You'll be able to use the extra living space in any way you choose, perhaps as an extended living room, office space or dining area.
And with the extra room in your home, you'll add plenty of value. So, while conservatories are an excellent alternative to the upheaval of moving to a new house for more space, when the time comes to leave, you'll find your house is worth more money on the market.
There is a common belief regarding conservatories – one that doesn't apply to Abbey's superior installations – which is that they are only useable at certain points during the year. Some conservatories become too hot in summer and far too cold in winter, resulting in a narrow window during which time they can be enjoyed.
We are proud to say that this is not the case when you choose Abbey.
There are many ways to make your conservatory into a space that you can enjoy all year round. Insulating the living space is an excellent way to do this. There's no need to be deterred from investing in our superior conservatories. Once you've allowed the expert team at Abbey to design and install your ideal conservatory, it will already be thermally efficient and warmer in all season as a result of the high performance glazing options we use in our installations.
If you would like to improve the warmth and comfort offered by your conservatory even more, you might want to consider additional insulation options.
Conservatory Floor Insulation
With the superior double glazing installed within an Abbey conservatory, your new living space will already hold a lot more heat than others. You may perhaps want to maximise the effectiveness of this by ensuring that your conservatory floor is as well insulated as possible. This will make sure that your conservatory loses less heat through the base of the structure and can stay warmer in the colder months.
Designing and building a conservatory is a real team effort. When you choose Abbey, you're choosing a wealth of experience from countless individuals who make up our expert team. From builders to plumbers and electricians, you can enjoy a rich knowledge base when you decide to design a conservatory with us. With our expert team involved, we'll make sure you are fully informed about every aspect of your build, including the floor and its heating.
We'll make sure you are able to consider at this point if you would like underfloor heating for your conservatory. It is an option that is soaring in popularity for homeowners due to the way it further improved the functionality and flexibility of your conservatory throughout the year. However, this is one of the more expensive options.
As a result, you may alternatively want to consider insulation boards. These boards are relatively easy to work with. They can be cut and shaped according to your unique specifications, so an expert installer can find and fit it for your property in no time at all. As an additional benefit, underfloor insulation panels offer good fire protection too.
For either of these options, you will want to think ahead and look to add them while the conservatory is being constructed. Our experts can advise you on the most viable option. Otherwise, retrofitting a conservatory with either of these insulation options can prove costly and disruptive to your home. If you're in the initial planning stages of a conservatory, talk to the friendly team at Abbey to discuss the best options for you.
Conservatory Roof Insulation
A conservatory, by its very nature, is stunning to look at but can fall short when it comes to its insulation properties. The glass roof makes the space feel exposed to the British weather and offers relatively little protection. Additional insulation can change that in no time at all.
If you're considering weatherproofing your conservatory to stand up to the elements, you'll want to look to the large glazed walls. However, if you're priority is retaining as much heat as possible, you'll want to look up – insulating the roof is the most efficient and effective way to deal with a particularly cold conservatory. As warm rises, heat escapes through the roof. Insulation work to stop this.
There's no need to worry about finding a comfortable balance of heat for your conservatory when you invest in insulation – you will be able to enjoy a space that is warmer when you want it to be and cool when you need it to be with efficient and effective insulation. Eliminate unnecessary worry and enjoy your conservatory as you always planned to. With the experts at Abbey with you every step of the way, there's insulation that's right for any homeowner and any style of property.
One excellent option to consider is to select new ceiling blinds for your conservatory. These can be installed along the roof and you will be able to open and close them at any time of the day, all through the year, allowing you to regulate the amount of light and heat in your conservatory. You won't have to compromise on aesthetics and lose any of the natural light that you are hoping to fill your home with when you start planning your conservatory. Let in the sun and keep out the cold with versatile ceiling blinds to regulate the heat levels in your conservatory.
If conservatory roof insulation doesn't feel like the right choice for you, or if you already have a structure that is underperforming and you would like to revamp it completely, improving its style and functionality, you might want to consider replacing the roof entirely.
Conservatory Roof Replacement
If you already own a conservatory and feel that it isn't performing as well as it could (or should) then you might want to consider one of Abbey's superior replacement conservatory roofs. They can improve the style and performance of your property's expanded living space and make it a much more comfortable living space at all times of the year.
Solid conservatory roofs are a beautiful replacement roof that perform as good as they look. They're an ideal choice if your conservatory catches the sun and comes under threat from intense UV rays, as they offer shade and protection. As well as keeping you safe and comfortable in the summer, a solid conservatory roof will work well for you in the winter too. The parts of the structure that previously offered shade from the sun will, in colder and darker months, help to hold the heat and keep your space cosy.
Tiled conservatory roofs, expertly installed by Abbey, can be designed to be either fully tiled or partially glazed. This style allows you to enjoy the thermal efficiency benefits of a solid roof without compromising on the large glazed areas that are highly sought after for conservatories. You'll be able to allow an influx of natural light to fill your home while keeping it warmer and more comfortable throughout the year.
For all our conservatory roofs, we work with market leaders Ultraframe. This is part of our commitment to providing the finest home improvements for you. As we discussed earlier, so many skilled tradespeople are involved in the high quality construction of Abbey's conservatory. As a result of our partnership with Ultraframe, you can be sure that they are working with the finest replacement roofs on the market to deliver a superior installation that will make your existing conservatory more insulated and more comfortable.
Contact The Team At Abbey Conservatories
For an expertly installed conservatory that meets all your specifications, staying warmer and more comfortable all year round, get in touch with the professional team at Abbey. Whether you're designing a new conservatory from scratch or looking to improve an existing structure with improved insulation properties, we can help.
From inception to installation, you will have Abbey by your side every step of the way. Get in touch with us today for a free online quote. We look forward to hearing from you!