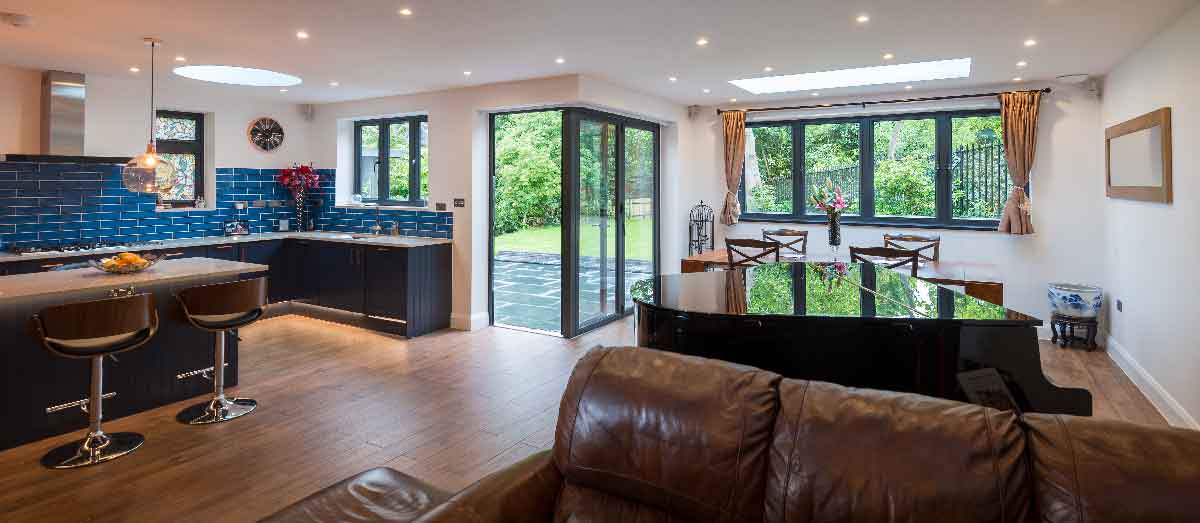 Here at Abbey, we're committed to improving your home in every way possible, in a manner that works for you.
We would like to share with you one of our recent projects where our expert installation team installed stunning aluminium windows and doors at a property in Reading. The homeowner was thrilled and keen to let us inspire our other valued customer with stunning images of our work.
If you've recently invested in a new conservatory from us, or if you're thinking about getting in touch – first of all, why wait? Second of all, once you've created a brand-new living space, don't let the rest of your home fall behind. Our modern aluminium windows and doors will make your property as cosy and comfortable as your new conservatory, so you can relax indoors all year round.
Plus, many of our conservatory installations, such as our tiled roofs, feature an aluminium structure, so you can create a cohesive aesthetic. For more information about our striking and high-performance aluminium products, visit our dedicated Abbey Aluminium Windows site, or get in touch with us today.
Aluminium Windows
Just as our bespoke conservatories offer a range of benefits including thermal efficiency, aluminium windows are an excellent investment for any and all properties. As you can see from our eye-catching images, the homeowner at this property choose to keep the original distinctive aesthetics of aluminium for their new windows. However, it is a highly customisable material, so you can choose the colour and finish that's right for you.
There are many other advantages to choosing aluminium windows that will make the rest of your property keep up with the high-performance of your modern conservatory. With slim frames and a sleek appearance, you'll be able to fill your home with an influx of natural light throughout. Just as the advanced double glazing in your custom conservatory or orangery makes your home look brighter and feel bigger as a result, our aluminium windows will work the same magic on the rest of your house.
We're able to customise aluminium windows to suit the look and feel of the rest of your property. If you've recently invested in a conservatory, don't let the rest of your living space fall behind. Maintain a modern, striking aesthetic and reinvent the look and feel of your home with aluminium windows.
The homeowner in this case was thrilled by the finished product as well as Abbey's professional and friendly service throughout – the results are clear to see here. Find out how we can do the same for you.
Aluminium Doors
Conservatories open up your home and allow a seamless connection between the inside and outside of your property via your expanded living space Aluminium doors in the bi-folding style achieve the same results expand your home's potential even further.
Just like aluminium windows, aluminium bi-fold doors are sleek, slimline and incredibly strong. Since you have recently invested in (or are thinking of investing in) a secure and stylish new conservatory, you won't want to compromise on that peace of mind when it comes to other areas of your lifestyle. That's why aluminium doors make an excellent investment as a resilient barrier between you and the outside world.
Our modern conservatories, as you may already know, feature exceptionally large and stunning double glazed areas to fill your space with an influx of natural light. If you're looking to enjoy a bigger and brighter living space (and why wouldn't you be?) then aluminium bi-fold doors are the perfect accompaniment. Even when closed, they allow you to flood your home with light thanks to their glazed panels and remarkably narrow frames, without compromising on security.
Open up your home to new possibilities with aluminium doors and bi-fold doors, just as our valued customer did here. They couldn't be happier with the striking aesthetic of classic aluminium frames alongside exceptional levels of modern performance.
Aluminium Home Improvements
If you're planning to improve your home with a bespoke conservatory from Abbey, it might also be worth thinking ahead about how else you can increase your living space's potential. Aluminium windows and doors are full of possibilities, and as you can see here, we're able to install them as expertly as we do our conservatories.
Why not visit our dedicated site, Abbey Aluminium Windows, to find out more and receive your competitive aluminium windows and doors prices online in minutes? Alternatively, you're welcome to call us on 0118 958 2839 or contact us online to discuss your options.