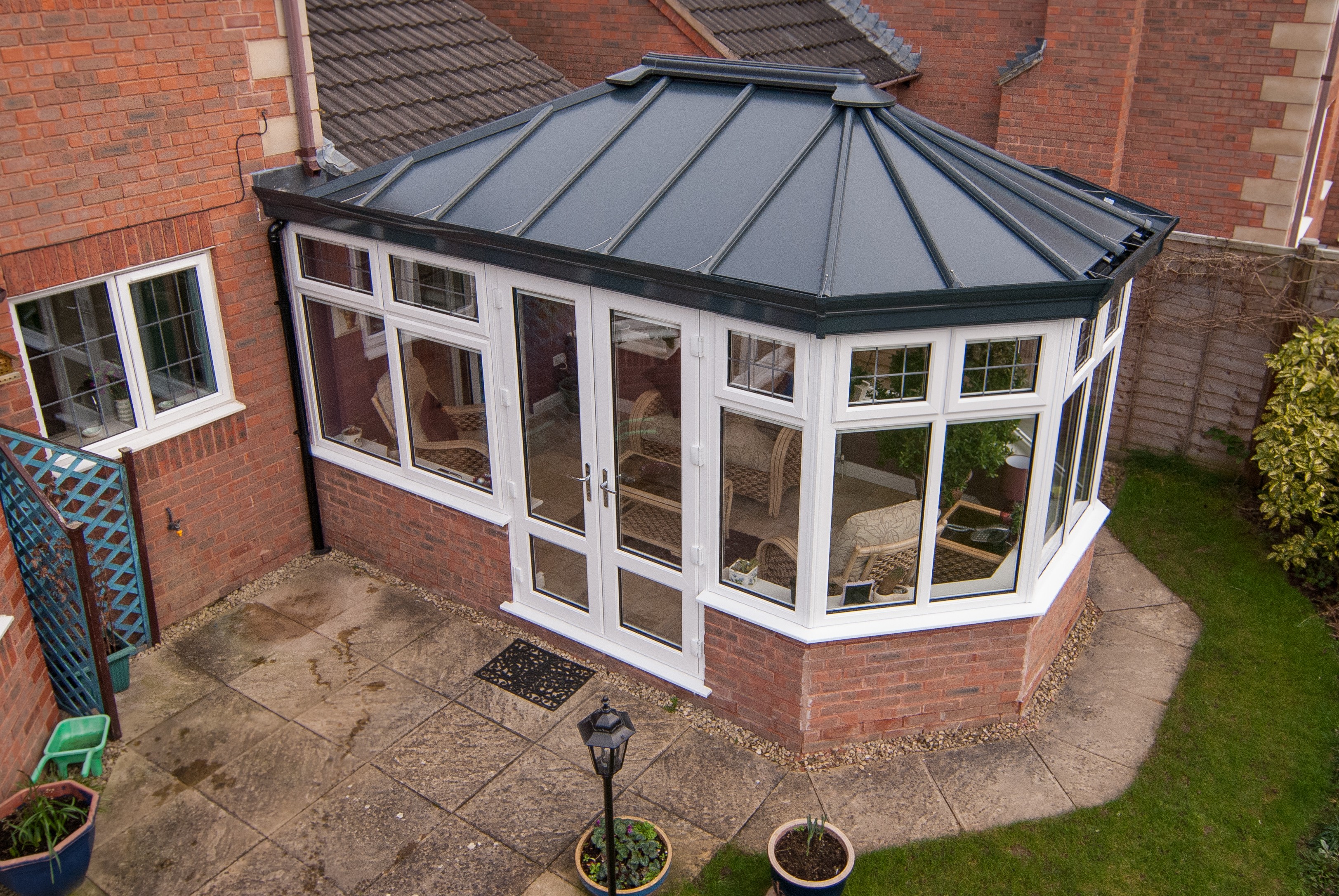 Which conservatory roof should you choose as a homeowner? We here at Abbey offer a variety of conservatory roofs and options that are available to homeowners that are looking for a new conservatory or perhaps want to breathe new life into an existing conservatory already attached to your property. Such styles and options include Solid Conservatory Roof, Tiled Conservatory Roof, Ultrasky Flat Skylight, Ultrasky Roof Lanterns, Conservatory Roof Replacements and Conservatory Refurbishment. Whatever your choice, we understand that choosing a new conservatory roof option can make oneself ask a lot of questions they may not have the answers to, such as 'how thermally efficient is it?', 'is it secure?' and 'can it be bespoke to me?'. All these questions and more will be properly elucidated below, helping you decide which conservatory roof is best for you as a homeowner.
Solid Conservatory Roof
Are you looking for a state of the art conservatory roof? Our solid conservatory roof may be for you. Our solid roof conservatories come from our partner Ultraframe, who are known for their outstanding quality and performance of all their products. With Ultraframe providing your solid conservatory roof, you can be sure that you won't have to worry about the worst of British weather anytime soon. Expertly designed to resist the very worst of storms and keeping your property draught free. A solid conservatory roof is also known to be thermally efficient, capable of trapping and retaining heat inside your home, keeping it comfortably warm without the need to switch on the central heating. Enjoy an incredibly resilient conservatory roof that will keep your new living space warm, cosy and dry.
Tiled Conservatory Roof
Looking for the sturdiness and resiliency of the aforementioned solid conservatory roof but want to be able to include a partially glazed roof? Perhaps a tiled conservatory roof is for you. Also sourced from Ultraframe, we guarantee our valued customers the very best when it comes to conservatory roofs. Want to enjoy additional thermal performance whilst making sure that your new extension remains as durable and strong as ever? We can help with that. We tailor our conservatory roofs specifically to you. We can make the tiles of your conservatory roof match the style of your home, creating a seamless addition and natural extension of your property. Tiled conservatory roofs can offer a variety of tiling options that allow for a bespoke conservatory roof which includes: spotlights for a natural inflow of natural light, integrated speakers to jam out to your favourite playlist or a flat panel at the apex of the roof to create a pendant light.
Replacement Conservatory Roofs
Already own a conservatory, but it isn't performing as well as it could, or perhaps you own an older design of a conservatory and feel it needs a new lease of life? Perhaps instead of purchasing a whole new conservatory, why not simply go for our replacement conservatory roof option? As an affordable alternative to replacing an entire conservatory. Refresh an older conservatory with a replacement conservatory roof, making it look, feel and perform like new again. Enjoy a high-quality home solution without the high-quality price attached. Our replacement conservatory roofs offer fantastic insulation and thermal performance that can easily turn an outdated design of an older conservatory into a much more hospitable and comfortable living space. Many older conservatories are often plagued by inefficient thermal performance, meaning that they can become quite uncomfortably hot and cold during the Summer and Winter, respectively, making a conservatory only usable for about only half a year. Whereas installing a replacement conservatory roof can easily remedy such faults thanks to its versatility and thermally efficient design, being available in such styles such as glass roofs, aluminium roofs and tiled roofs, fitting any existing conservatory regardless of its style and age.
Which conservatory roof should you choose as a homeowner? We would argue that it depends. The wants and needs of each homeowner are drastically different, meaning that whilst we do suggest one type of conservatory roof in particular, we suggest picking the conservatory roof option that best applies the most to your personal specifications and desires. Looking to renew your current conservatory, go for a replacement conservatory roof. Want to add a bespoke skylight for a natural influx of sunlight? Maybe a tiled conservatory roof is for you. Or perhaps you just a sturdy yet stylish barrier that will protect your conservatory from any weather, a solid conservatory roof it is then. Want to find out more about our conservatory roofs? Try our free quoting engine or contact us today.