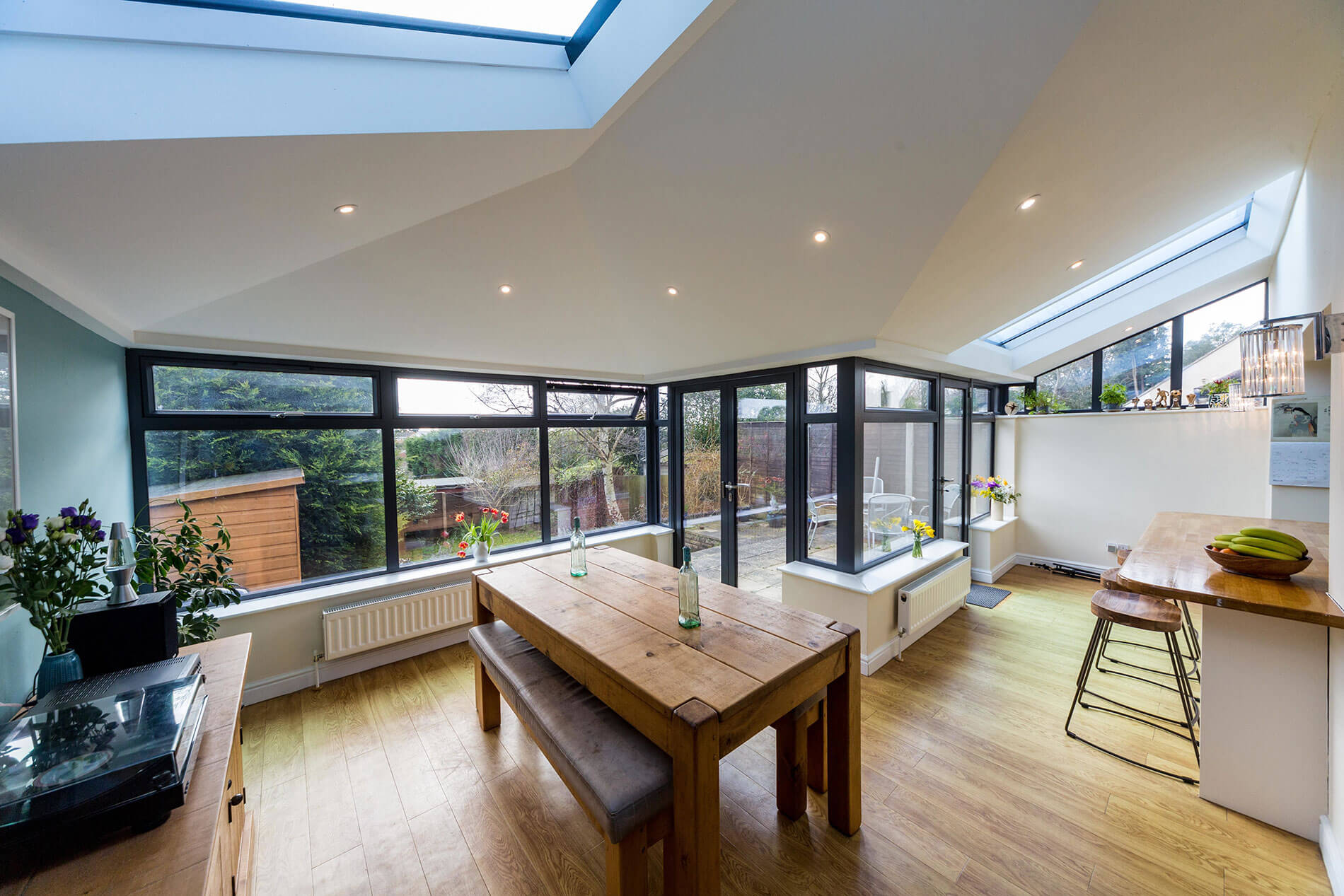 Here at Abbey, we're uniquely positioned to see exactly how the home improvement market can change throughout the years and across the seasons. It's interesting to watch as certain installations rise in popularity with the trends as homeowners keep up with the Joneses – and their new conservatories.
Conservatories have risen significantly in popularity over the last few years. Homeowners are looking to avoid the unnecessary stress of moving house and if they find they outgrow their current home, they are choosing to expand their existing living space with versatile new conservatories.
Whether the shifts in consumer conservatory buying habits is a result of budget, improved knowledge or increase product availability, it's interesting to note how the popular conservatory roof styles have changed in recent years and how the industry has adapted to change with them.
Polycarbonate Conservatory Roofs
For a long time, polycarbonate conservatory roofs were the most popular choice for homeowners. Compared to some of the alternatives that we will talk about below, these styles are around 3-4 times cheaper. As a cost-effective conservatory and a straightforward way to expand your living space, polycarbonate conservatories always were, and will always remain an excellent, affordable and functional choice.
They do, however, lack the inherent insulation and thermal efficiency benefits of some of the other conservatory materials. This means that, although they can be more affordable initially, they may require initial investment further down the line in order to make them as liveable and comfortable as they can be.
Glass Conservatory Roofs
In later years, the market shifted more to glass conservatory roofs. As homeowners became more aware of energy efficiency and the benefits of maintaining an effective living space all through the year, especially in winter months, the awareness of glass roofs grew exponentially. This style is an excellent investment as it can help you save money on your energy bills, creating a living space that retains the heat well and stays cosy through the year.
Glass conservatories roofs are also exceptionally resilient. They are less prone to scratches than some of the alternatives, and they have also proven themselves to be exceptionally weather resistant. As the harsh conditions close in, a glass conservatory roof will keep you safe and comfortable inside your home.
Hybrid Conservatory Roofs
For the best of both worlds, hybrid roofs are also available. Once homeowners started looking at polycarbonate roofs and then glass roofs, the natural curiosity was to explore the benefits of combining the two. Ultraframe's Livinroof combines the look and feel of both to create a third option that is increasingly popular, soaring above the previous two.
Hybrid conservatory roofs are an extremely versatile choice. They can improve the feel of your living space in either your conservatory or house extension. Homeowners enjoy the features of both without the need to compromise – combining the privacy and security of a solid roof without sacrificing the influx of natural light that a glass roof would allow.
Heavily customisable and able to be refined for your needs, it's easy to see why hybrid roofs have risen in popularity for homeowners looking to replace their conservatory roof. As the market continually grows and develops, and people become increasingly aware of their options, the next conservatory roof style could be completely unexpected and unique.
Whatever it may be, rest assured that you can stick with Abbey to stay completely up to date.
Find Your Perfect Conservatory Roof With Abbey
Here at Abbey, we follow the trends – and keep up with them. In fact, most of the time we're leading the way and shining a light on the latest advancements in the home improvement industry. You can rely on Abbey to find the latest and greatest conservatory styles, designs and refinements for your home.
Why not get in touch with us today using our online quoting engine? You'll receive a personalised quote based on your bespoke specifications, and we'll help you find the conservatory that will stand the test of time and continue to perform at its best for you for many years to come.
For a conservatory that sets the trends and outlasts others around, contact Abbey today.