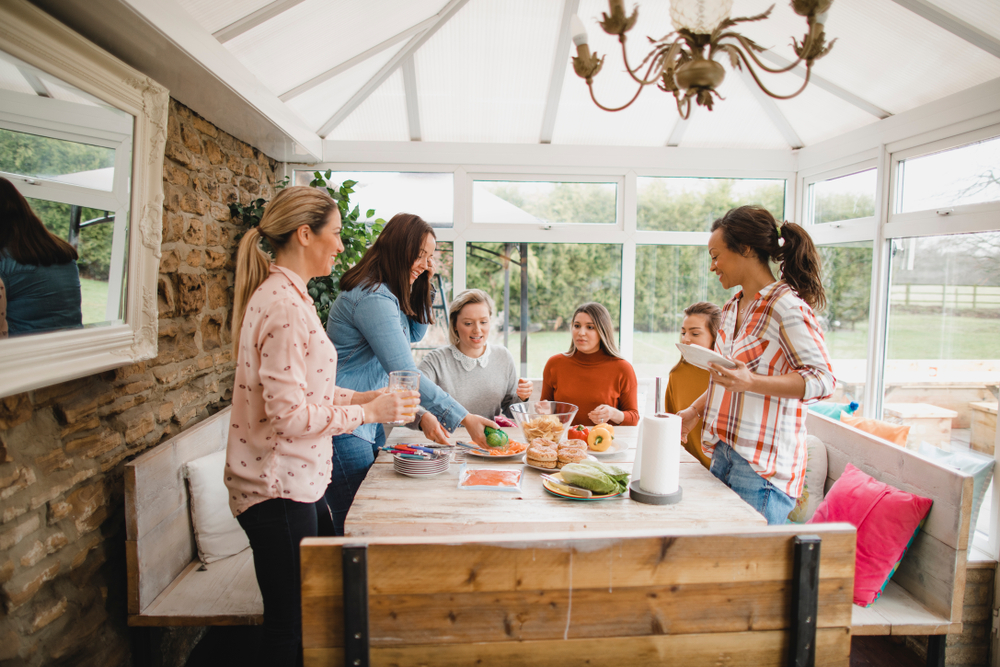 A conservatory can add at least 5% to your home's value, meaning expanding your home might not be so expensive in the long run. Nowadays, people are looking for bigger homes. With people spending more time at home, they want more space to use and enjoy. And, still, the best way of adding that space to your property is by investing in a conservatory.
With a well-built conservatory, you'll get a brand-new room you can use every day. Not only that, you can use it comfortably. Modern designs are far more efficient than older builds, meaning they'll be warmer throughout the day and the year. When the winter comes around, your new space will stay warm. When the summer returns, though, your space will be cool as well.
At Abbey, you can make sure you get a well-built conservatory that will add value to your home. Our designs have competitive prices, high-quality materials and quick and easy installations. Working with Ultraframe, a market leader, we can offer conservatories that set the standard. As a result, you'll be able to get more for your home if you ever decide to move on.
How Does a Conservatory Add Value?
With a new conservatory, you can add value to your home in several ways. You'll have more space for a start, meaning you have more room to enjoy your living space. You could use your conservatory for multiple unique purposes, too. For example, you could design a home office, a social space or even a dining area. You can even customise your conservatory around your needs.
Your conservatory will also stand the test of time to add value to your home for decades to come. Our designs have premium-grade materials, such as advanced double glazing, resilient profiles, and options like solid and tiled roofing and brickwork walls. Because of this, a brand-new conservatory could last for decades, and that's without regular maintenance. As a result, your new space will always look its best.
Finally, your conservatory can add value to your home from day one. Although it'll help save you money in the long run, it can also save you money straight away. Our conservatories are energy efficient, meaning you can cut your energy usage while keeping warm inside your home. As a result, you can reduce your household bills and potentially save thousands over the years!
How Much Value Does a Conservatory Add?
But how much does a conservatory add value to your home? It usually depends on a range of factors in the design. One of them is the amount of glazing. Builds with a lot of glass look more modern, appealing to style-conscious homeowners. With Abbey's conservatories, you can afford to have plenty of glass, though. Our double glazing can keep you warm while allowing natural light to pour into your home.
Another factor is in what direction you build your conservatory. If your home is east or west-facing, then that means sunlight will enter your space at different times of the day. However, if you choose a south-facing design, you'll consistently get more light during daylight hours. As a result, a south-facing conservatory is highly sought after, meaning they could add even more value to your home.
But the build quality is usually the most important way to make sure your new conservatory can add value. With the right materials and elegant design, you can get a space that looks stunning for decades. As a result, you could add upwards of 5% to your home's value, meaning you could benefit from increasingly high offers to help you find the perfect new home.

How Does an Abbey Conservatory Add Value?
With Abbey, you can make sure you get a conservatory that can add the most value to your home. And, as a trusted local installer, we try to provide a service you'll value as well. We can offer our high-quality conservatories at lower prices for your home. With fewer travel costs, shorter wait times and more personalised service, you can find the best way to invest in a new conservatory with us.
Not only that, we guarantee you'll get a well-built conservatory. We work closely with Ultraframe, meaning we can offer their full range of designs, styles and customisable features. As a result, you can build a bespoke conservatory with us that can add even more value to your home right now. You can design it around a specific purpose and your home's style for a seamless fit.
Finally, Abbey's local installers make the whole process of expanding your home more valuable. You can rely on them to treat your home as they would their own, and they'll always go the extra mile to help. We'll manage your whole project, from design and planning permission right through to completion. We'll work around your schedule, too, to minimise stress and hassle.
An Abbey Conservatory Can Add Value to Your Home
Get in touch with Abbey to choose a unique conservatory that can add value to your home today.
You can use our online design tool to discover our range of options, fill in our online contact form to ask us any questions, or speak to us directly over the phone by calling 01189 582 839.