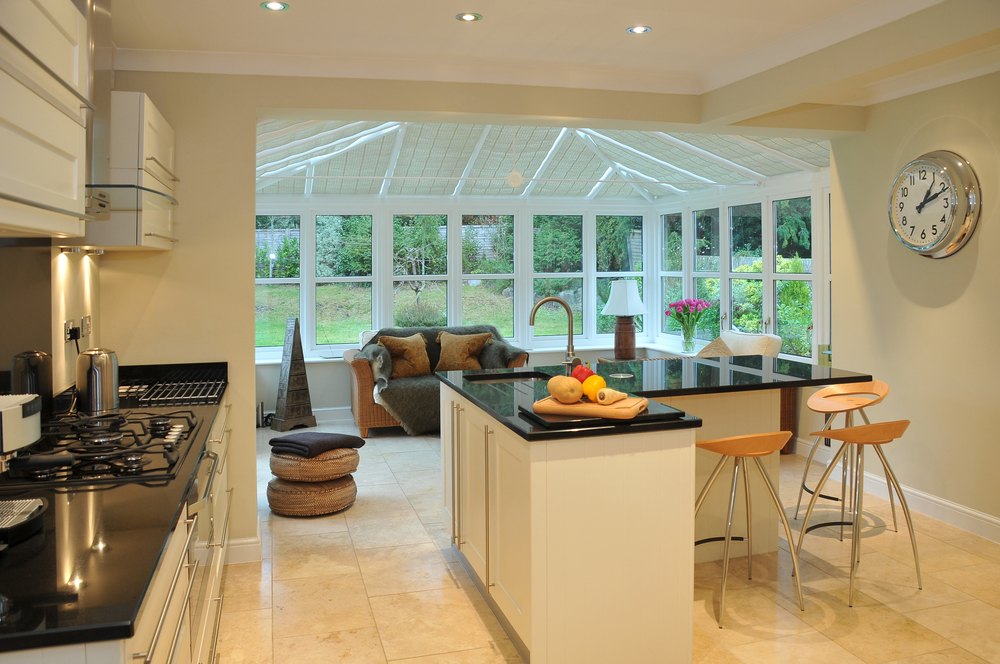 There are lots of important questions to ask when you're planning to design your brand-new conservatory – and most exciting of all is, "How should I use my new conservatory?" We've put together this handy homeowners' guide to give you some ideas about the most popular ways to use a conservatory, so you can choose the perfect way to make use of your new living space for you and your loved ones.
Conservatories are a significant undertaking for anyone. Their installation involves intelligent and co-ordinated efforts between many teams of skills individuals to get the job done. From builders and electricians to project managers and interior designers to name a few, there are many people involved in any conservatory installation.
But remember that the most important person is you – you are the one who will see and enjoy your new conservatory every day, so you need to make sure it's right for you. That's why you need to choose a reliable company like Abbey to expertly handle every aspect of the project so you can pay attention to the key point of how you are going to use your conservatory.
Use Your Conservatory As A Social Place
Create a welcoming and inviting social hub for friends and family to enjoy with this popular use for a conservatory. As an extension of your home, you'll benefit from an additional room in which to welcome guests and entertain.
Consider the many conservatory roof options available to enhance the look and feel of your conservatory as a social place. For example, if you opt for certain internal pelmets, these can be adorned with lighting and speaker options to create the perfect ambience and set the mood for your party or gathering.
With stunning conservatory roofs, you can enjoy gorgeous views of the night sky for evening soirées or bask in the beautiful sunshine and warm glow of an afternoon gathering. Conservatories connect your home with the outside world in a different way to the rest of your living space, so the top uses for conservatories make the most of this.
Use Your Conservatory As A Home Office
In recent months, working from home has gone from a luxury or rare occurrence to the "new normal" for many of us. As a result, lots of homeowners have realised that their property doesn't have a space that's ideal for working, away from the hustle and bustle and distractions of everyday life.
That's why one of the top uses for a conservatory is to turn it into a home office. You have a whole new room to fill with everything you need to get your job done, from a desk and computer to any other equipment you may need. What's more, you may find yourself feeling more inspired than if you were working from your spare bedroom or loft conversion, and your conservatory is full of natural light and gorgeous views of your garden, creating an inspiring space that helps you stay creative and stress-free.
If your job isn't computer-based or office-bound, you can still enjoy this popular use of a conservatory. If you're a professional person providing a skill or trade, why not consider operating out of your conservatory? Turn your conservatory into a hair salon, for example, transforming your space into a bright and airy room in which you can carry out your own transformations. Or, use your conservatory as an arts and crafts studio, and start creating beautiful pieces as stylish and bespoke as your new room.
Use Your Conservatory As A Guest Bedroom
If you want to use your conservatory to entertain friends and family, but you're hoping they'll stay for a few days, why not consider turning your new expansion into a chic and stylish guest bedroom? Let your loved ones sleep under the stars as you welcome them into your home, while also maintaining yours and their privacy.
Modern conservatories feature advanced glazing options and efficient building capabilities to improve the thermal efficiency and weatherproofing of their installation. This means you won't have to worry about your guests overheating in the summer or feeling chilly on winter nights, as they stay comfortable all year round. What's more, with privacy-focused designs, your guests won't have to feel exposed for all to see.
Using your conservatory as a guest bedroom also gives your carte blanche to head out and choose some brand-new pieces of furniture to fill your space. Make your conservatory as welcoming as possible with stylish furniture, practical additions like tables and storage, as well as a comfy bed to snuggle into after a long day. When you haven't got any guests round, you may even feel tempted to use your conservatory as your own bedroom for a change of scenery!
Use Your Conservatory In Your Own Way With Abbey Conservatories
There are many popular ways to use a conservatory, and any of these would be a viable option. Choose a trusted local installer like Abbey to work with you on the project, understand your needs and get the job done in a way that works for you – giving you plenty of time to plan how you want to use your conservatory.
No matter whether you're looking to make a buzzing social hub, inspiring home office or stunning guest bedroom, we can help. The possibilities for your new conservatory are endless, and we'll help you design and install the one that's right for you.
Get started today using our online quoting engine to generate your free and bespoke conservatory quote. You can also call us for more information on 0118 958 2839 or complete our online contact form. We'll take you through the top ways to use your new conservatory for the best price. We look forward to working with you soon.